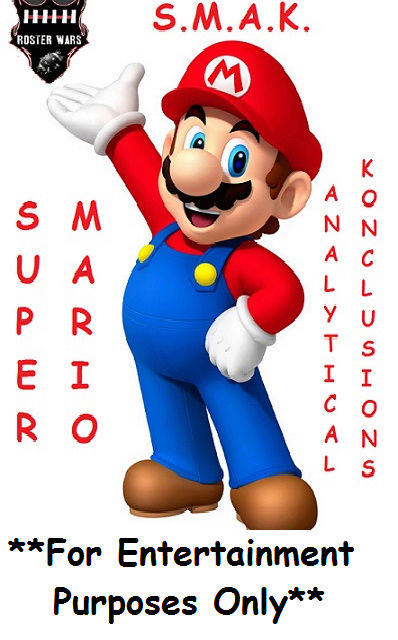 My, how time flies. SMAK is already at Week #6 and that means the final Chapter Prediction for the 2017 season. Chapter 6 may be the last Chapter to be show-cased, but I think "last but not least" qualifies here. Of the 3 Chapters in the Terrible Twelve, this one will be the most competitive from top to bottom. It'll be the tightest race of the 3 Chapters too. It also features half of the new owners for 2017 in Roster Wars as they will be interviewed for the first time by SMAK. So far, the other 2 new owners are predicted to finish below .500 Is there a chance here for a team to break the .500 mark? Last season, the Golddiggers finished 2
nd
in the Chapter. Are they going to let the new faces dictate who wins the Chapter? Or will the Roster Wars vet prevail? Several folks predicted Pink for the Goon Squad last year. If they predict the same thing this year, they better check into psych ward. The Goon Squad is no longer a Pink candiate. But are they a candidate to get out of the Chapter 6 cellar? If SMAK predicted that, it may be a psych ward appointment for Super Mario. Here's how SMAK see Chapter 6 unfolding in 2017:
CHAPTER SIX

GOLD DIGGERS

8

4

OYSTERS

7

5

JUSTICE

6

6

GOON SQUAD

4

8







SAN FRANCISCO GOLDDIGGERS (8-4)
The San Francisco Golddiggers are predicted to win Chapter Six by SMAK. In all honesty, what choice did SMAK have? You have the Golddiggers in one hand, and in the other, you have 2 rookie owners and the Goon Squad. It looks like this team just struck gold by being in Chapter Six. Unfortunately, is it Fool's Gold? Ryan Tannehill is out for the year at press time. SMAK Predictions were in well before NFL camps began. They Golddiggers still have Matt Ryan at the helm, and he's going to be good for close to 25pts/game. The running game is a bit of concern as they are currently starting Bilal Powell and Eddie Lacy. Lacy's made weight every chance he's stepped on the scale. Does that mean he'll start gobbling up the yards? If he does, that'll be good news for the Golddiggers. One worry they won't be having is with their receivers. The 4 they have slated to start are all 24yrs old or younger. Plus, they are being led by Odell Beckham Jr. & Michael Thomas. How could this duo not average over 35pts/game? If their #1 TE stays healthy, watch out. Rob Gronkowski could be the difference maker in the Golddiggers offense. The defense is a bit more of a concern than the offense as the Golddiggers are currently looking to start 4 defensive front linemen. That's not entirely a bad thing as they will be led by Cameron Jordan and DeForest Buckner. SMAK has this pair scoring over 30pts/game. Ryan Shazier & Jatavis Brown are young and predicted to score over 35pts/game. The Golddiggers also have Sean Lee starting and he should contribute with his over 15pts/game too. The key question will be, are the Golddiggers going to have the service of Rob Gronkowski and Sean Lee for the entire 2017 season? If they do, crown them the Chapter 6 Champs. Let's see if Han-Yang believes it:
   SMAK: Hello Han-Yang!
Han-Yang: Hi Spikey.
      SMAK: Not sure where that name came from, but it works.  Are you ready for your second SMAK interview?
Han-Yang: I have done this before. It's pretty straightforward.
      SMAK: Yep, same format as last year.  No Roster War Championship for the Golddiggers last season.  Are you excited for this season?
Han-Yang: Glad 2017 is here.
      SMAK: Everybody is ready for a new start.  Plus, you have two new faces in Chapter Six.  Any pointers for the new owners?
Han-Yang: Time to teach them about fantasy football.
      SMAK: They seem to be well acclimated with the forums.  Especially Ed.  He has a keen knack for finding lost threads.
Han-Yang: He also has 6 antennas to listen for extra terrestrials.
      SMAK: He does?  I wonder if that means we'll have aliens playing here next season?
Han-Yang: As long as they're hot, who cares.
      SMAK: Hotness always helps.  You want to pick apart the rosters of all your Chapter foes?
Han-Yang: This will be fun for somebody....Not sure that somebody will be me.
      SMAK: How about a quick analysis of each team's roster then?  Kane County Goon Squad?
Han-Yang: Why aim so low?
      SMAK: Just starting at the bottom of the Standings.  Ok, how does the Charm City Justice roster look?
Han-Yang: It really is gruesome.
      SMAK: I don't think it's that bad.  I bet their All-Play record will be decent.
Han-Yang: All Play is a good one.
      SMAK: Aside from All-Play, we could also incorporate Victory Points.
Han-Yang: And Andy does all the work right?
      SMAK: You want Andy to be in charge of Victory Points?  Are you serious?
Han-Yang: I said it with a straight face.
      SMAK: You did.  I suggested it once and he called me an asshole & an asshat.
Han-Yang: Why would you want a second ass?
      SMAK: I wouldn't, but he said asking for Victory Points is like farting into the wind.
Han-Yang: I wonder what would happen if exposed to flame?
      SMAK: It would definitely be the end of my SMAK career.
Han-Yang: Sorry to see you go.
      SMAK: Luckily, I dropped the subject and I'm not going anywhere.  Back on topic, what's your review of the Rocky Mountain Oyster's roster?
Han-Yang: Definitely not necessary to review this.  Nothing good will come of it.
      SMAK: Ok, how about the #1 team in Chapter Six?
Han-Yang: You mean me?
      SMAK: Of course I mean you.  SMAK predicts the Golddiggers to win the Chapter.
Han-Yang: You are overrating me.
      SMAK: How so?  Even Matt's Pigskins Rankings has your players high up in the rankings.
Han-Yang: I continue to think Matt is overrating my team.
      SMAK: Not so sure about that.  If Eddie Lacy starts in Seattle, that could be huge for the Golddiggers.
Han-Yang: I hope that Lacy will have a monster season.
      SMAK: Plus, you open the season facing the Norfolk Bombers.  A win there, and the victories will start pouring in.
Han-Yang: Make it rain!
      SMAK: I'll have to cut this interview short as I got called for jury duty and I better get home to prepare.
Han-Yang: I get called for jury duty a lot, and it's not worth your time.
      SMAK: Usually I'd agree, but this is a federal military case involving N. Korea and nuclear missile silo locations that were leaked to the public.
Han-Yang: Disclosing national security information.
      SMAK: Yea, I better stop before I say too much.  Sometimes I get a little conspiracy theory crazy because SMAK is always under attack.
Han-Yang: Maybe you're spending too much time on this?  But keep doing it.
      SMAK: I probably am, but SMAK won't stop until everybody believes.  Good Luck in 2017 with the Golddiggers.
Han-Yang: Best wishes for the future!
ROCKY MOUNTAIN OYSTERS (7-5)
And here it is.  The torch bearer for the 4 new owners of Roster Wars.  The Rocky Mountain Oysters is the only team of the 4 new owners that is predicted to finish above .500.  They also have a legitimate shot to make the Roster War Playoffs.  They just have to stay focused for a 12 game schedule and not consider their Week #1 game as their Championship Game.  Then again, what right-minded owner with a SMAK predicted record of 7-5 consider Week #1 as their Championship Game when their opponent is predicted to finish 3-9?  The Oysters may not have flashy QB's that are making Sports Center highlights every week, but the last time I checked, you need more than highlights to win in Roster Wars.  With Tyrod Taylor and Joe Flacco scheduled to start, this pair should easily combine for over 35pts/game.  If they need to hand off the ball, who better than Melvin Gordon?  He may break 20pts/game this season.  However, don't overwork him as this position is a bit weak for the Oysters.  Is DeAndre Hopkins seriously only 25yrs old?  With him & T.Y. Hilton catching passes, they too should be scoring 35pts/game.  However, the Oysters stong suit will be the stiffling defense.  Don't be surprised if this defense scores over 170pts/game.  That's can't be considered out of line when you have a LB corp of Kwon Alexander, Luke Kuechly, Kiko Alonso, and K.J. Wright starting.  Dare SMAK predict that these 4 could combine for 75-80pts/game.  If that happens, this team could very well be on their way to the Playoffs with a rookie owner.  Let's see if this rookie can handle the pressure of a SMAK interview:
SMAK: Hello Ed.  Are you ready?  I know I am, as this is now Interview #22 in this 6 week process.
     ED: Quite the ritual to go through, eh?
SMAK: It's been crazy, and I wonder if it's even worth it.  Probably just a waste of my time.
    ED: Don't tell Andy.  
SMAK: I'm not worried about Andy.  He doesn't even take the time to read these interviews.  Although heart-breaking, I'll be just fine.
    ED: Sorry to hear, but glad that you're OK.
SMAK: Oh yea.  Speaking of OK, I haven't heard Bill talk about his Charm City Justice too much, what's up with that?
    ED: Han-Yang must have scared him off.
SMAK: My next interview is with him and he's already said he'll be late.  Sucks because that's my biggest pet peave.  What's yours?
    ED: People who don't show up on time.
SMAK: There you go, so you can relate.  If I can get his interview done in time, the article will still be out on Monday.
    ED: We can try and coax him out.
SMAK: Maybe if Roster Wars forks out a $100 to each owner being intereviewed, it would be easier to schedule on time.
    ED: I don't think Andy would approve of all this financing.
SMAK: Probably not.  Then my final interview will be with Eric.  He already told me SMAK will be a dead man if they predict them to come in last again.
    ED: He was joking.
SMAK: Maybe you're right.  When he threatened SMAK, he was smiling.  Body language like that is usually because they are joking.  Hope I'm right.
    ED: You are interpreting correctly.
SMAK: That's a relief.  You ready to see the SMAK prediction for the Rocky Mountain Oysters?
    ED: Know it will be good news!
SMAK: Yep, a 7-5 first year record for you and a victory over the Bergen Brawlers in Week #1.  How's that sound?
    ED: Pumped that I get to start the season 1-0.
SMAK: I expected that kind of reaction.  Anything you'd like to say to Russ for your 1-0 start?
    ED: Thanks Russ.
SMAK: You two seem to really not like each other and you take all his comments very personal, don't you?  Why the hatred?
    ED: I have nothing personal against Russ at all.  From all indications, he appears to be a pretty stand up guy.  Simply a FF rivalry against a passionate competitor.
SMAK: Then it sound like it's all in good fun.  Rumors were you guys met at a sports bar for a Tim Tebow autograph signing and got into fisticuffs.  Why the fight?
    ED: Overbooking, alcohol, and shoving people into a confined space like sardines.
SMAK: Were you afraid when Russ "put up his dukes"?
    ED: No, not afraid at all.
SMAK: And who was blamed for the skirmish?
    ED: Unfortunately, I was blamed.
SMAK: That's too bad.  However, let's talk about the Oysters.  Being a new team from a dispersal draft, it was hard to compare anything to 2016.
    ED: There is no precedent for making past comparisons.
SMAK: As from SMAK, your Oyster team is the only team of the 4 new owners that is predicted to finish above .500.  Is SMAK safe to make that announcement?
    ED: Put it on the Board!
SMAK: That's pretty confident considering your QB Tyrod Taylor lost his WR1, Sammy Watkins.  Carla said Tyrod Taylor will suck Donkey Balls this year.
    ED: Man, Carla uses some pretty salty language around here.
SMAK: That she does.  But with Flacco's bad back & Taylor losing his WR1, SMAK is considering putting the Justice ahead of the Oysters in Chapter 6 now.
    ED: Oh, yeah?  Then put your money where your mouth is.
SMAK: I don't know if I'm ready to do that yet, but with the recent string of bad news for the Oysters QB's, things have suddenly tightened up in the Chapter race.
    ED: Will be interesting to see how it actually ends up.
SMAK: LB Kwon Alexander is predicted to have a big year by SMAK and score over 300pts again, and there has been no news about him from Camp.
    ED: Yeah, no news is good news.
SMAK: For sure, as all the news nowadays seems to be injury related.  Everything from torn ACL's to bee stings.
    ED: I enjoyed the bee topics.
SMAK: I'm going to leave the bee talk (referred to as "The Buzz") to Justin.  I have to get this article sent to the Publisher.
    ED: Expected completion date?
SMAK: The usual day, Monday.  And it's my last article of the season.
    ED: That's pants, you lucky sod!
SMAK: Oh yea, I'm lucky.  Gonna take a long vacation after this!
    ED: Have a great time.
CHARM CITY JUSTICE (6-6)
And Justice for all!  Or at least half the time as SMAK predicts a 6-6 record for Charm City Justice.  Couldn't resist the pun right out the gate and decided to get it out of way early.  The second rookie owner in Chapter 6, they are also just 1 of 2 rookie owners predicted by SMAK to be .500 or above. Quite an honor, your honor.  Charm City does come into Chapter 6 with one of the top QB duo's with Matthew Stafford and Jameis Winston.  They're predicted to score over 35pts/game.  If they can get closer to 40, this team may even be over .500.  The key to the Justice offense lies in the hands of their young RB's.  Tevin Coleman and Todd Gurley lead the backs and SMAK predicts them to score close to 30pts/game.  To have true success, the Justice will definItely have to rely on their defense.  The plaintiff has no chance (sorry, had to throw in another pun), the jury awards the verdict to the defense.  For Charm City's defense, you don't even need to talk about points.  All you have to do is mention the names of the defense council, and you know the points will pretty much be automatic.  This should be the highest scoring defense in Chapter 6 and is ranked by SMAK as the second best defense in the Terrible Twelve.  Charm City will need all of their defenses points and more to get to a 6-6 record.  Check out these names:  Jason Pierre-Paul, J.J. Watt, Alec Ogletree, and Navorro Bowman.  Scary for the opponents and maybe also scary for Charm City.  I'm sure they'll be crossing their fingers every week that Bowman & Watt remain healthy all of 2017.  If they do, these 4 guys can easily score 80pts/game.  Leaving the other 18 guys to score about 250pts.  So the Justice season may virtually depend on their 4 top defenders.  Let's see if Bill minds having all his eggs in 4 baskets:
SMAK: Hey Bill, Sorry I'm late, but I couldn't get the scheduling situated.
 BILL: He's Alive!!!!
SMAK: Ya, I'm alive.  I was talking to Ed about being pissed with your tardiness, and now I'm late.  I really do apologize.
 BILL: No need to apologize to me personally (although I appreciate the sentiment). We are all good.
SMAK: This is your first SMAK interview, are you ready to get started and see the predictions for Charm City Justice?
 BILL: This has the potential to end poorly, but I am still finding it quite enjoyable from my end.
SMAK: It won't be bad.  I know you have high hopes, but SMAK predicts the Justice to finish with a 6-6 record.
 BILL: Not what I was expecting.
SMAK: I didn't think so, but SMAK uses an extensive formula to come up with these predictions, and they're pretty darn accurate.
 BILL: I am a believer FWIW.
SMAK: If you think you have a better formula, you're more than welcome to come up with a prediction for Team Justice.
 BILL: Damn, that would have been fun.
SMAK: Then have at it.
 BILL: I can give that a shot, although I would imagine that this won't actually change the rankings too much.
SMAK: See, it's not that easy.  I already know the changes I need to make to the SMAK formula for 2018 and have begun the formulations.
 BILL: Good on you for realizing you needed to make a change and doing it. I am sure it is not easy to do at all.
SMAK: It was brutal.  But in the end, the SMAK formula will be closer to perfection in 2018, and that achievement will make it all worth it.
 BILL: Thinking positive, I like it.
SMAK: I mean, check out my scratch papers for the new formula.  Exciting stuff and complex theories, don't you agree?
 BILL: It's friggin contagious.
SMAK: Thanks.  In the mean time, let's get the interview process laid out since it's your first one.
 BILL: Want to explain what this is for the newbies, or should I go post digging like Ed?
SMAK: No, I'll explain it all.  We'll start with your roster. What's up with Zachary Orr? Who decided to pick this guy up? 
 BILL: So I will take the blame for this one.
SMAK: He's still not on a NFL roster and he cost you a couple of contract years.  That's a bone-headed move.
 BILL: Fair enough
SMAK: Yet you picked up LB Alec Ogletree.  He's the best players in Roster Wars.
 BILL: Well played sir.
SMAK: I wasn't trying to play anything there.  It's just SMAK predicts him to score over 300pts this season.
 BILL: I was thinking the same thing.
SMAK: Seeing players like Ogletree, Matthew Stafford, Navoro Bowman, & JPP on your roster, I'm thinking SMAK needs to move you up in the Chapter 6 Standings.
 BILL: Wow, I feel so special.
SMAK: But then I heard, you predicted a 12-0 record for your team.  Why did you say that?
 BILL: Just me making stuff up I guess. Sorry about that.
SMAK: Ok, leave the predicting stuff to SMAK.  Now I had another player I wanted to talk about, but I forgot who it was now.
 BILL: It will come back to you in no time I am sure.
SMAK: It's just you pissed me off with your 12-0 prediction for Charm City Justice.
 BILL: Interesting turn of events.
SMAK: It's not interesting.  It's down-right angering as every Tom, Dick, & Jane (or Tom, Joe, & Carla) think they can do what SMAK does.  They don't have the expertise!
 BILL: I think we have reached the tipping point.
SMAK: The creation of SMAK is a long journey as I try to perfect the formula and if I make one mistake, these Jack-Wagons jump all over SMAK!
 BILL: Every journey has its setbacks.
SMAK: You would think they would have learned from Russ's mistake.  At least now I found Jesus, and their words are no longer hurtful.
 BILL: Congrats sir, hope things continue on the positive path.
SMAK: Now I remember what player I wanted to ask about.  LB Preston Brown will now be facing competition from Reggie Ragland.  Are you concerned?
 BILL: I wonder what kind of fantasy production he will put up there?
SMAK: SMAK predicts over 250pts from Brown.
 BILL: Good on him I guess.
SMAK: And good for the Justice too.  By the way, be on the lookout for the new yearly subscription for SMAK and make sure you get on the mailing list.
 BILL: Can I add, my neighbors to the list?
SMAK: Most definitely!  And even though you didn't agree with everything SMAK had to say, I hope you had fun & enjoyed the process.  Talk to you next year.
 BILL: Seriously though, good stuff.
KANE COUNTY GOON SQUAD (4-8)
he predicted 4th place team is the Kane County Goon Squad, but there's a change in the air.  This team is expected to start making some noise in 2017 and may pull off some stunning upsets this season.  The offense will be leading the Goon Squad this year as this up and coming offense looks to start matching points for points with the rest of the teams in Chapter 6.  Their starting QB's appear to be Russell Wilson & Sam Bradford.   SMAK predicts this pair to combine for 35pts/game.  The Goon Squad will be relying heavily on rookie RB's with Dalvin Cook and Christian McCaffery.  If this rookie duo can combine for over 35pts/game, the Goon Squad may exceed SMAK predictions.  Along with that pair, there are also RB's Ty Montgomery and C.J. Anderson to contend with.  Can this pair combine for 30pts/game?  That could be a huge RB advantage for the Goon Squad.  For their WR's, Kane County will be led by Martavis Bryant and Alshon Jeffery.  If they can not combine for 30pts/game, the Goon Squad may not be winning as many games as SMAK predicts.  Defensively, it'll be all about the LB's for the Goon Squad.  That starts with Deion Jones & Benardrick McKinney.  This young tandem should be easily scoring over 35pts/game.  DE Akiem Hicks is also a strong defensive player that is predicted to score about 15pts/game.  Last season had some talk about the Goon Squad wearing Pink.  There won't be any of that conversation this season.  So let's see what Eric plans to talk about in 2017:
SMAK: Hey Eric.  Final SMAK interview of 2017, are you ready?
 ERIC: I'm up for it!
SMAK: Awesome!  You seem a bit hyper, you OK?
 ERIC: LOL - don't mind me - I'm just fellin a bit saucy this Friday (almost weekend) afternoon.
SMAK: That's fine.  You want to take a look at the SMAK Predictions?
 ERIC: Thanks - always like seeing these.
SMAK: I gotta warn you though.  The Predictions for the Goon Squad aren't going to be too generous.
 ERIC: YOU DONT HAVE TO TELL ME - IT SUCKS BALLS (BIG HAIRY ONES)
SMAK: At least this year's 4-8 prediction is better than last season's 3-9 prediction.
 ERIC: FUCKIN A - YEAH!
SMAK: I thought you'd be happy about that.
 ERIC: WAY TO THINK BRO!
SMAK: Are you going to be yelling all your responses to me?
 ERIC: Wondered how long that would take.
SMAK: Well it was obvious, pretty damn fast.   As far as the Goon Squad goes, no Pink prediction for this franchise in 2017.
 ERIC: WOW - never thought that would happen.
SMAK: Take a look at this SMAK prediction I wrote down:   "The California Nightmare will be Pink in 2017."  How does that look?
 ERIC: I READ THAT WITH A VERY FLAMBOYANT VOICE IN MY HEAD.
SMAK:  A flamboyant voice makes it way better.
 ERIC: THOUGHT THE SAME THING.
SMAK: I mean, look at the Nightmare QB's, Paxton Lynch, Trevor Siemian, Bryce Petty, Cardale Jones.  What can you say about Greg's team management?
 ERIC: Dumbass - that guy is fucked - I don't mean just for football.
SMAK: I'd rather you say it, than me.  As a father, I have to watch my language.  Are you a father?
 ERIC: Not a father but I am a mother fucker!
SMAK: And you're also ballsy.  Looking at your LB's Benardrick McKinney & Deion Jones, they should both have big years.
 ERIC: I DONT THINK THOSE GUYS ARE THAT FAR APART.
SMAK: They're not.  According to SMAK, they should both score about 290pts a piece.
 ERIC: That's exactly what I thought you were going to do.
SMAK: I see you have 8 QB's on your roster, and one on the Taxi Squad.  Which one is your favorite?
ERIC: QB - BRIAN HOYER
SMAK: No shit?  But he's likely to end up on the bench.
ERIC: DONT "THEY" SAY THAT EVERY YEAR???
SMAK: I guess they do.  I'll say this,  if he's still starting by Thanksgiving,  I'll eat cold turkey that day.
ERIC: Good plan - I've tried the cold turkey route too.
SMAK: You have?  I'm not talking a turkey sandwich.  Now that I think about it, make a turkey sandwich, and put the mashed potatoes & cranberries in there too.  How's that sound?
ERIC: HAVEN'T HEARD OF THIS ONE - WILL HAVE TO CHECK IT OUT
SMAK: You should.  Back to the Goon Squad, what is your ultimate defensive lineup?
 ERIC: imo BEST LINEUP = 1DT, 1DE, 5 LB, 1CB 3S
SMAK: Instead, your current lineup has 1DT, 2DE's, 5LB's, 2CB's, & 1 Safety.
ERIC: Really?
SMAK: Ya really.  I know when I don't set my best possible lineup, I start to have mini panic attacks.
 ERIC: I too find myself having mini "panic attacks" every once and awhile - just tell yourself to wait 5 min.
SMAK: Good idea, and while I'm waiting the 5 minutes, I'll check out the NSFW thread.  How's that for an idea?
 ERIC: PRETTY COOL - WILL HAVE TO LOOK INTO THIS.
SMAK: Have to look into this?  You were a top contributor.  My favorite job was to try and select my favorite pic.
 ERIC: SOUNDS LIKE AN AWESOME JOB FOR YOU!
SMAK: I didn't complain.  Hey, if you make the Roster War Playoffs this year, what are you going to wear to the award's banquet?
 ERIC: LOL- THIS TIME I HAVE TO WEAR JEANS, BOOTS, TIE, AND A CAMO VEST.
SMAK: Love it, I'm definitely going to buy a ticket to that banquet.  Crap look at the time, this interview is pretty much done.
ERIC: THAT DIDN'T LAST LONG.
SMAK: No it didn't, but it was a blast.  Talk to you next season, Eric!
 ERIC: Godspeed Bro!
Super Mario has emptied his tank!  The past 6 weeks have taken its toll.