It's Week 5 and things are pretty much going as planned in the TT.  The Pigskins, Steel Cats, and Golddiggers sit atop their respective Chapters and remain the favorites to take the Conference crown.  And divisional play resumes this week so we'll see if they can separate themselves further or succumb to the challengers who are hot on their heels. In Chapter 4, the Divine and Brawlers could create a 3-way tie for the lead with victories but that is unlikely to happen.  In Chapter 6, the Justice can grab a tie for the lead with a victory and a Golddiggers loss but the Golddiggers face the hapless Oysters so that is unlikely to happen as well.  So our Monster Matchup this week comes from Chapter 5 where Todd's (I Love Me Some Pussy) 3-1 Steel Cats face Joe's (Greg Invited Me Over for Tea) 3-1 Knights.
vs.
The winner grabs sole possession of first place in the Chapter and gets to beat their chest.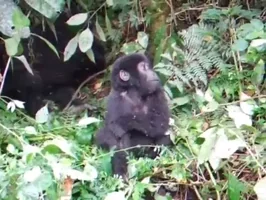 As we all know, Todd is an original owner of the RWDOC and Joe joined last year.  Let's take a look at where the Steel Cats have found themselves going into Week 5 in prior years –
2012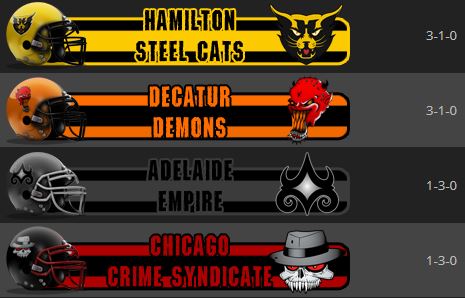 2013
2014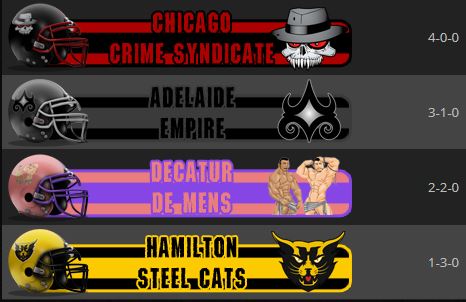 2015
2016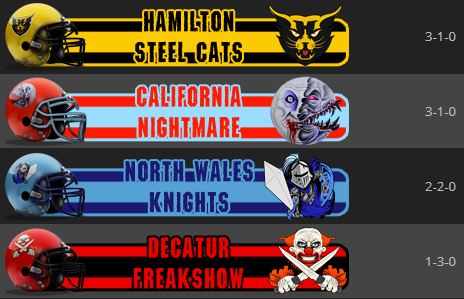 Pretty evenly matched with two 3-1's, two 1-3's and one 2-2.  Never 4-0 or 0-4 and is once again 3-1 going into this matchup against the Knights.
So how have they performed in Week 5 games over the years?  Let's take a look –
2012

2013

2014

2015

2016

Well, look at that!  The Steel Cats only get a win in Week 5 when they are 3-1 and that's exactly where they stand right now.  And they average 320.88 points in Week 5 contests.  Does this spell bad news for the Knights?    
Let's take a deeper look –
At QB, Todd loses Carr to injury and Joe loses Brees for his BYE week.  However, the Knights fare much better by being able to plug in Goff vs. E.J. Manuel for the Steel Cats.  Then it's Cam for Joe vs. Dalton for Todd.  Cam is coming off a big week vs. the Patriots and should have a decent game against the Lions while Dalton is not facing the Browns this week so it won't be pretty.
Advantage:  Knights
Each starts 3 RB's – Joe's Ajayi/Collins/Riddick against Todd's Howard/Hunt/Rawls.  Although there is a question mark as to what Rawls will contribute this week, what the Knights are putting forth is underwhelming to say the least.  And from what we've seen so far this season, Hunt is an absolute beast.
Advantage:  Steel Cats
It's 3 WR's for the Steel Cats and 4 for the Knights.  Todd loses Julio Jones to the BYE week and he suffers for it by having to go with Geronimo Allison and Robby Anderson.  Joe starts two Buc receivers in Evans and Humphries (on Thursday night) and adds Brandin Cooks (also on Thursday night) and Sammy Watkins.  Jordy should have a good game against the Cowboys but it won't be enough.
Advantage:  Knights
At TE, Todd has Kelce and Engram going against Tyler Kroft for Joe (OUCH!).  Need I say more?  
Advantage:  Steel Cats
The starting Kickers are Elliott for the Knights and Butker for the Steel Cats.  I have no clue which one will do better but I do know that Butker sounds like one of Greg's favorite porn movies.
Advantage:  Even
At DT, it's Malcolm Brown for Joe vs. Ndamukong Suh for Todd.  Never go against a boy named Suh.
Advantage: Steel Cats
3 DE's for Todd against 2 for Joe.  Although Aaron Donald isn't paying dividends at DE, it's a numbers game here.
Advantage:  Steel Cats
The Steel Cats start 5 LB's against the Knights' 4.  Although Joe sports C.J. Mosely, it's tough going up against Todd's strong trio of Justin Houston, Khalil Mack, and Telvin Smith.
Advantage:  Steel Cats
At CB, Joe goes with Adoree Jackson vs. Todd's Logan Ryan.  So how do you predict which Titan CB will post the better numbers this week?  You don't.
Advantage:  Even
3 S's for Joe, 1 for Todd.  3 > 1.
Advantage:  Knights
So what's the bottom line?  
The Steel Cats never lose when they're 3-1 so they get the W.
Agree with me?