Week 3 brings us quite a bit of excitement as division rivals square off for the first time this season.  In Chapter 4, the surging Pigskins take on the struggling Bombers while the woeful Brawlers meet the division leading Divine.  In Chapter 5, newcomer Mean Machine is making a splash with their undefeated record as they tangle with the TT conference champion favorite Steel Cats.  In Chapter 6, the undefeated Golddiggers face the 1-1 Justice while the Oysters and Goon Squad clash in hopes of staying out of the division cellar.  So do any of these contests warrant Monster Matchup status this week?  Not when we have a fantastic backstory with the other two Chapter 5 teams facing off.  That's right, the Week 3 Monster Matchup in the TT division can be none other than the battle between Greg's (I Have More Hair on My Ass Than My Head) Nightmare vs. Joe's (I Love Birthday Cake) Knights.
vs.
Both these teams are relatively new to the RWDOC with Greg joining on 2015 with a dispersal draft against the Minions and Joe joining last year by taking over the New England Nineties franchise.  Despite knowing each other for a relatively short period of time, however, a true bromance has blossomed between the two.  A bromance is defined as a "a close, emotionally intense, non-sexual bond between two men.  It is an exceptionally tight affectional, homosocial male bonding relationship exceeding that of usual friendship, and is distinguished by a particularly high level of emotional intimacy."  Based on the forum banter between Greg and Joe over the past year, it is apparent that we are witnessing such a relationship.
From sharing of intimate photos to custom baked birthday cakes, these two go above and beyond anything seen before in the closeness of league mates. "This makes me so happy" said Andrew Mettayer, President and founder of the RWDOC.  "My vision was to create an atmosphere of comradery and friendship but never in my wildest dreams could I have ever imagined what has developed between Greg and Joe.  This is truly remarkable."
It's very difficult for the Nightmare and Knights to face off against each other because they are always rooting for the other one to win. But let's take a look at what has transpired in their matchups over the past year.  In Week 6 of the 2016 regular season, Joe had a big win over Greg 335.88 to 261.74.  "I'm really happy for Joe and am so glad I could welcome him into the league with a win" said Greg when the contest was over.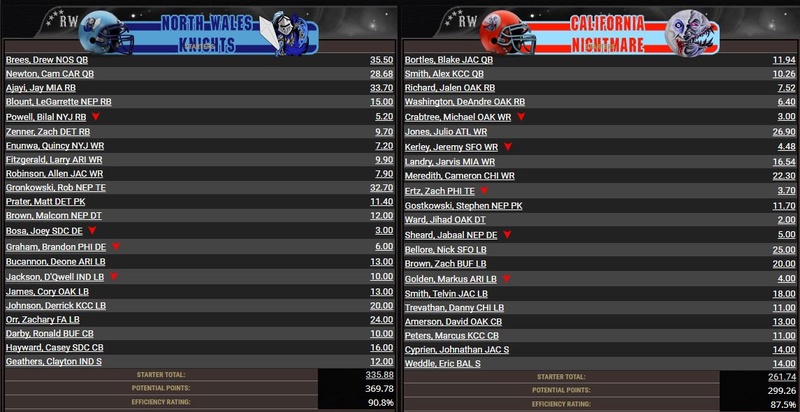 Then in Week 11, it was an emotional roller coaster as a Thursday stat correction gave the victory to the Nightmare 304.48 to 303.08.  Greg's euphoria turned to sadness when he realized that the victory had been ripped away from his buddy Joe.  "I'm so upset I can't even watch porn now" said Greg when the realization had set in.  "This fucking sucks."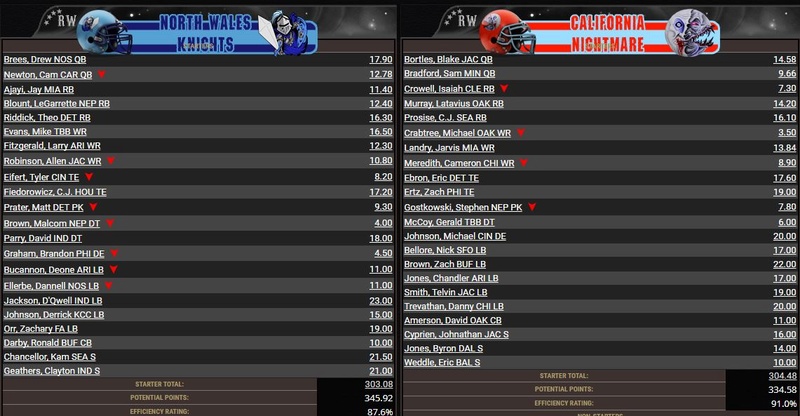 But Greg could breathe a sigh of relief when the Knights made the playoffs and he did not.  "This gives me a special feeling," he said.
So now they meet for the first time in 2017 for the rubber match.  "I'm a real fan of things made out of rubber so this should be good," said the Nightmare.  In addition, Greg made a number of moves over the last several months to improve Joe's chances of winning.  He traded Julio Jones, Telvin Smith, Jarvis Landry, Eric Ebron, Zach Ertz, Michael Crabtree, Chandler Jones, Zach Brown, and let several others go through Restricted Free Agency.  "I really, really, really want my buddy Joe to win," he said.  Will Greg's wish come true?
Let's take a deeper look –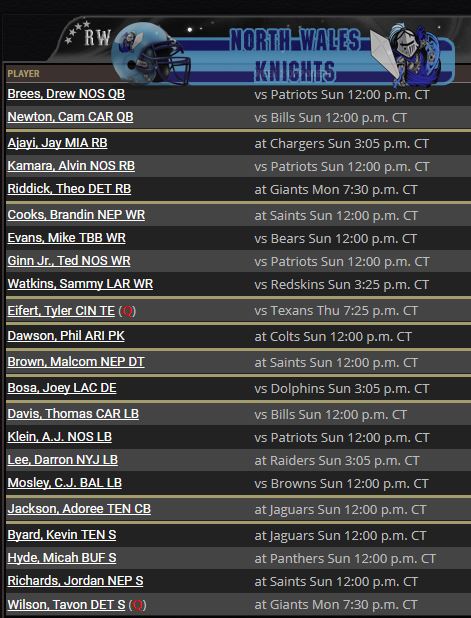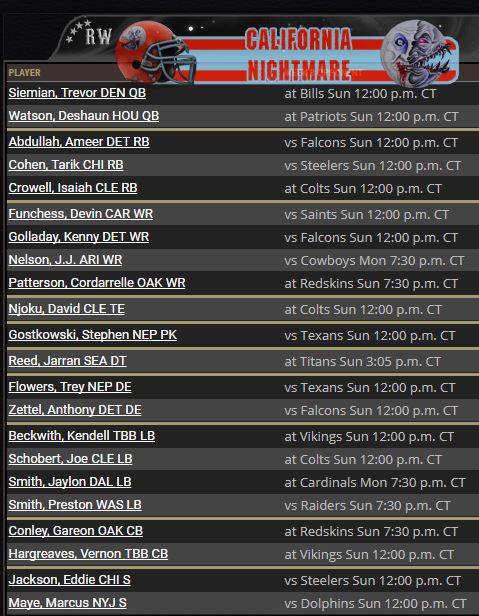 Joe has not submitted a Week 3 lineup at the time of this writing so we will have to go with what he had for Week 2.
At QB, the Knights pit Brees/Cam against Siemian/Watson.  Although Siemian has surprised so far this year, rookie Watson faces the Patriots in Foxborough.  Cam needs to get it together and will this week.  
Advantage:  Knights
Each starts 3 RB's – Joe's Ajayi/Kamara/Riddick against Greg's Abdullah/Cohen/Crowell.  Should come down to Ajayi vs. Cohen.  
Advantage:  Knights
The Nightmare will have a tough going at WR, having to rely on Funchess, Golladay, Nelson and Patterson.  Nelson has surprised but the Knights counter with Cooks, Evans, Ginn and Watkins.  Granted, Evans is the only one who has shown up but that will be enough.  
Advantage:  Knights
At TE, Joe is going with Eifert against Njoku for Greg.  Eifert is hurting (what a surprise) and Njoku scored last week.  Don't like either option.  
Advantage: Even
Surprisingly, the Nightmare have Gostkowski at K and haven't traded him.  
Advantage:  Nightmare
OK, so this might be a copout at IDP but the Nightmare is dead last in defensive rankings through Week 2 while the Knights are 5th.  Yes, Joe had a poor outing in Week 2 and only had 12 more points on defense than Greg but nothing jumps off the page that the numbers reverse this week.  Do we need any more detailed analysis here?  No, we all know how this one is going to turn out anyway.  
Advantage:  Knights
So what's the bottom line?  
The Knights get the win and Greg is elated that his bro gets the rubber.
Did you enjoy my twist on the TT Monster Matchup this week?