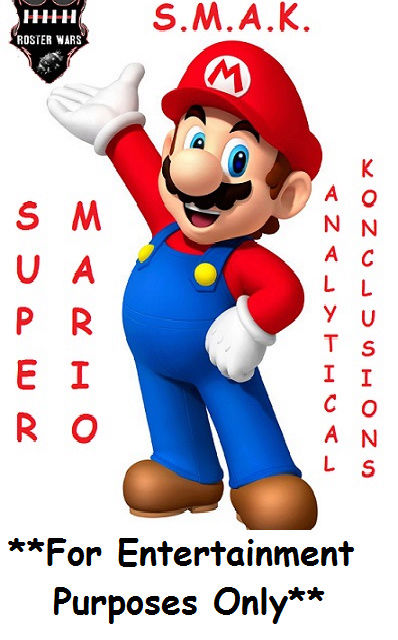 Last week, I tried a new format that I thought would look a lot better and make for easier reading. Unfortunately, I ran into a bevy of snags during publishing and things got a little scrambled. I'm still not satisfied, but I'm not taking any chances with this week's SMAK Predictions. I'm expecting a huge subscriber turnout this week. Is it to see if SMAK can pick itself up, off the ground? It is to see what may possibly be the best team in Roster Wars with the Hamilton Steel Cats? Or is there interest in seeing where the first new member of the Terrible Twelve is going to be ranked by SMAK? Or possibly to see if there is going to be a sophomore jinx for second year owner of the North Wales Knights. How about the upcoming interview with the California Nightmare and a possible rough season? No matter what brings you here to the SMAK Predictions, Chapter Five should provide something for everybody. Here are your Chapter Five team record predictions for 2017, brought to you by SMAK:
CHAPTER FIVE

STEEL CATS

11

1

MEAN MACHINE

5

7

KNIGHTS

4

8

NIGHTMARE

1

11







HAMILTON STEEL CATS (11-1) 
The Hamilton Steel Cats are poised to be the Cream of the Crop of not only Chapter 5, but most likely the Terrible Twelve, if not all of Roster Wars. SMAK sees this as the most complete team in the league and will be hard-pressed to lose a game this season. This team may be poised to score over 350pts/game. If you were to build a Pro-Bowl roster, you may as well start here. The QB combo of Derek Carr & Andy Dalton should combine for over 35pts/game. Roster War MVP David Johnson will lead the running attack as he looks to score over 25pts/game again this season. What if the running game slips? There is always Julio Jones waiting in the wings as he should score over 20pts/game as well. This offense is poised to score 190pts/game. That means the defense is the weak link. If you want to call a side of the ball scoring over 150pts/game a weak link? The Cats have a front defensive lined led by Ndamukong Suh & Aaron Donald. This pair should score 35pts/game. Throw in LB's Telvin Smith & Khalil Mack as this duo should be close to 40pts/game. If there's any problems with this team, you'd have to pick the secondary. CB Logan Ryan is predicted to score 15pts/game. And with a defensive front as strong as the Steel Cats have, will there be any action in the secondary? Let's ask Todd:
SMAK: Hello, Todd.
TODD: Howdy Pardner.
SMAK: I like it, a little western slang.  You always talk like that?
TODD: Just for you, buddy!!
SMAK: Before we get to the Steel Cats, how about some Chapter 5 bashing of the other teams?
TODD: Do you beat on midgets and dwarfs as well?  Bully.
SMAK: It's not SMAK's fault that the rest of the teams in Chapter 5 will be playing 2017 below .500
TODD: NUFF Said.
SMAK: That's what I thought.  You do have a new owner in the Chapter as Mark is very vocal about the success Mean Machine will have.
TODD: I still don't buy this fuckers bullshit.
SMAK: Basically, you want to see him prove it in the Standings?
TODD: So true, man.
SMAK: Then you have fan favorite, Greg and his California Nightmare.  What do you expect from his team?
TODD: Another loser bites the dust.  Would like to say I'm surprised, but I ain't.
SMAK: What about Joe & his Knights?  You beat him out in the tie-breaker last season to win the Chapter. Are you happy to see him return for his RW sophomore season?
TODD: Glad to see he isn't sittin at home brooding and debating on playing Russian roulette.
SMAK: And of course there is the Steel Cats in Chapter 5.
TODD: Who's number one now?
SMAK: According to SMAK, it will be you.  But let's take a look at your roster.  What's the deal with Aaron Donald holding out of Camp for a new contract?
TODD: Another day, another moron.
SMAK: Looking at your entire roster, you only have one Buffalo Bill and that's rookie QB Nathan Peterman.  A good landing spot for where he was drafted?
TODD: I think Buffalo is not a good location.
SMAK: But you still drafted him.  Are you worried about Andy Dalton running out of playing time?  I heard you drafted Peterman to get younger at the QB position.
TODD: Out with the old...continues.
SMAK: However, Derek Carr signed a monster contract this off-season, and he wasn't allowed to throw any passes at camp today.  Any thoughts as to, why?
TODD: Musta dislocated a finger inking the deal.
SMAK: There's a possibility.  As for the Steel Cats, one thing that worries SMAK is the 11-1 prediction and the rest of the league being pissed.
TODD: I'm sure they will be, question is will you still be alive to see it happen?
SMAK: Now you're scaring me.  The anger may be coming from the DD as your team is from the TT and may be the team to beat.  What has happened on the DD side?
TODD: They are trying to make an oval wheel.
SMAK: The one comparison I can make is that the Hamilton Steel Cats & Titletown Tyrants are both two of the better teams in Roster Wars.
TODD: Hey Now, you just insulted all the turds of the world with that last comparison.
SMAK: Not a fan of Nick?  Is it because he portrays himself as the Super Hero of the Dastardly Dozen?
TODD: Nick playing super hero with wifey's maxi pads.
SMAK: He was on top of the world during the regular season last year, only to have it all collapse in the Playoffs.
TODD: Riding high, to swimming in shit in a heartbeat.
SMAK: It was a shocking loss.  Did you see his Twitter posts right after?
TODD: Never used Twitter, not even once.  Not sure what it is exactly.
SMAK: You're missing out on life.  At least you have Facebook.
TODD: Never used Facebook.  And guess what?  Life if Good!!!
SMAK: Maybe I can get together with one of your league mates and get you set up.
TODD: Don't try Dave, it will only make your head hurt.
SMAK: I think I figured out why, is it because he can't tell the difference from a computer keyboard and a computer monitor?
TODD: That be it, well done.
SMAK: SMAK has been trying to figure out which TT team will be able to beat you, and have been drawing a blank.  Same for you?
TODD: Yep, blank here.
SMAK: But you did tell me that you wanted to do this interview because you had something to say about a Terrible Twelve Conference Championship for the Steel Cats.
TODD: Oh yeah, the reason I was here is to say, "Set and done".
SMAK: Pretty confident and a good place to end this interview.  Any parting words of wisdom for SMAK?
TODD: Enjoy the day man.  Eat, drink, be merry.
MAPLE GROVE MEAN MACHINE (5-7)
Now we get to one of the three new owners in the Terrible Twelve.  The Maple Grove Mean Machine have been picked to finish 2nd in Chapter 5.  However, that may not be the greatest of news as SMAK has them below .500 with a 5-7 record.  The age of some of the key players on the Mean Machine roster is a bit concerning for SMAK.  The QB combo of Kirk Cousins & Eli Manning has some promise if Eli doesn't show his 36yrs of age.  Right now, SMAK predicts about 37pts/game from the pair.  For QB's, you'd hope for closer to 40pts/game.  The real scary part for the Mean Machine offense is the RB's.  If we were entering the 2012 season, this RB trio would be deadly.  Since it's 2017, you just hope these RB's won't be dead by the end of the season.  Frank Gore(33), Matt Forte(31), and DeMarco (The Kid) Murray(28) will be the 3-headed monster carrying the ball for as long as they physically can.  Even if they last the whole season, SMAK doesn't see this group even combining for 40pts/game.  They do have bright spots on the offense and that is led by WR Tyreek Hill.  According to SMAK, he should be averaging about 17pts/game.  For Maple Grove, their defense has a younger average age than the offense does.  The power of the defense will be led by the front line with DT starters, Marcell Dareus and Damon Harrison.  This pair should easily score over 40pts/game combined.  That will be a huge bonus for this team.  They also have a young CB in Steven Nelson as he hopes to score over 15pts/game.  Whether it's the youth of the defense or the experienced age of the offense, this team will have to fight to break the .500 mark.  Speaking of mark, let's see what Mark has to say:
SMAK: Well Mark, how do you feel about doing your first ever SMAK interview?
MARK: Stupid, just stupid.
SMAK: Oh yea?  You want to know what else is stupid?  That stupid reptile living on your head! How's that make you feel?
MARK: I don't have feelings.
SMAK: My producer just whispered in my ear that the reptile on your head is named Bethea.
MARK: Yea right, you knew that all along.
SMAK: Honestly, I didn't.  Does Bethea like to eat flies?
MARK: It's not his favorite.
SMAK: Does he have any friends?
MARK: Just leave Bethea alone!
SMAK: Getting to personal, I guess.  Now since this is your first SMAK interview, I think I had notified you about this interview in advance, didn't I?  Or not?
MARK: No, you did, just about a year ago!
SMAK: Whoa!  That was a long, damn time ago.  How did you possibly remember it was today?
MARK: I'VE GOT IT ON MY CALENDAR!
SMAK: Easy, you don't need to go all Eric on me.   Any questions for me before we start examining your team?
MARK: No, Nope, Zilch, Nada.....hope that clears it up.
SMAK: My first question was going to be about Dez Bryant, but I guess you don't have much to say about him anymore.
MARK: Glad I don't own him!
SMAK: I know you've taken some flack on past trades.  Anything you want to say about your critics?
MARK: I'm not here to throw stones, but can I shame somebody?
SMAK: Sure, nothing like some good ol' fashioned name calling.  Is it a joke I'll understand?
MARK: The only joke you need to get is:  Bergen Brawlers.
SMAK: Oooh, you just went there.  So even if the trades were considered lopsided, you still got some pieces to your team that you needed?
MARK: Yes, but I feel that those guys are the final pieces of my 10,000 piece puzzle that has taken me years to finish.
SMAK: And your reply to those critics?
MARK: Stupid fucking people!
SMAK: That's a bit severe.  But I've overheard some of your opponents wanting to sell you a bridge.  You have anything to sell?
MARK: I have some oceanfront property in Arizona to sell you, cheap.
SMAK: I think I'll pass.
MARK: Damn it.... I have a really good one.  Too bad.
SMAK: I'm sure you do.  Maybe if I learn to surf, I'll get back to you.
MARK: Funny Stuff!!!!!!!!!!!!!!!!!!
SMAK: You know what else is funny?  Your safety Antione Bethea has the same last name as your buddy on your head.
MARK: Really?  You are going to bust someone's balls over spelling of a last name?
SMAK: I did notice that you are carrying 14 WR's on your roster.  That's 21% of your total team.  A lot of starting WR options for you.
MARK: Lots of options, for me, for sure, I just simply can't start them all.
SMAK: How do you possibly decide on who to start.  To help you out, do you want me to share my SMAK formula?
MARK: Too much head spinning for me!  Yike, I go with my own.  You know.......dartboard!
SMAK: It's easy really.  You take the sum of their stats, calculate age, introduce future projections, sum up the total number of expected games, and divide by PI.
MARK: Blah, blah, blah.........
SMAK: It's not too complicated.  You just have to pay attention to where you input which numbers.  Look at my spreadsheet.
MARK: That is tough!  How can you concentrate?
SMAK: In short bursts.  Now I know Eli Manning is getting up there in age, but don't you think he will be upset when he finds out that you only signed him to a 2 year contract?
MARK: Shhhh......he doesn't need to know.  Don't poke a sleeping bear, it doesn't end well.
SMAK: Now that the interview is winding down, how was the stress level?
MARK: Well, this is less stressful that I thought.  I haven't pulled my hair out yet, so that is good.
SMAK: Well that's good to hear.  I imagine you've been on the RW site and read previous SMAK articles so you knew what to expect.
MARK: Been there, done that.  Been on here more than once.
SMAK: So things went smoothly.  Now that we're done here, it just puts me one step closer to having to interview Greg.
MARK: Lol.........have fun!
NORTH WALES KNIGHTS (4-8)
The North Wales Knights were the team with the new owner last season, and now the sophomore owner is predicted to place behind the rookie owner as SMAK has the Knight finishing 4-8.  That can't have Joe all too pleased as they finished last season with an 8-4 record.  I'm starting to wonder if Joe's team is mirroring Mark's, or visa versa.  The Knights have a young QB and an older one starting as they are going with Cam Newton & Drew Brees.  This combo is slightly better as SMAK predicts 40pts/game from this pair.  Now for he RB's.  Jay Ajayi is a great start for their running program as he should be scoring over 15pts/game.  That is, if you look past the recent practice concussion.  Now how does SMAK find a predicted 2017 stat for the next 2 starting RB's on the team?  Marshawn Lynch & Adrian Peterson are penciled in as the next 2 starting RB's.  SMAK may not be able to predict a number for these two, but SMAK can sure predict that these 2 won't still be starting when Week #16 rolls around.  At least the Knights are in good shape with their WR's and barring any injuries, they will still be starting in Week #16.  With Mike Evans, Brandon Cooks, and Allen Robinson leading the WR's, the team WR's are in solid shape.  This trio should be close to scoring 40pts/game.  The big problem for the Knights may be the defense.  LB's like A.J. Klein & Sean Spence are proving to be difficult for SMAK to predict results from and that's never a good sign.  The defensive front line is very young and in great shape for 2017 and the future beyond.  They are led by DT Malcom Brown & DE Joey Bosa.  Look for this pair to make some noise and possibly come close to 30pts/game.   SMAK sees the Knights & Mean Machine battling for the same wins all season long and for now, SMAK sees the Knight coming in 3rd in Chapter 5.  I'm sure Joe doesn't agree with that:
SMAK: Hello Joe.  Did you get a chance to read the past SMAK articles & posts?
JOE:    You assume I read your posts.
SMAK: Well, I was hoping that you had and read where SMAK had some of the teams rated and the accuracy of the ratings.
JOE:    Hee-Hee...since when are these ratings about accuracy?
SMAK: SMAK has always been about accuracy.  Other than accuracy, what did you think SMAK was about?
JOE:    Besides, Like the 1800-Psychic lines, this was for entertainment purposes, not accuracy.
SMAK: Now you're starting to sound like Dan of the Muskego Muskies.
JOE:    I notice you didn't dispute the point, Sweetheart.
SMAK: I have no problem disputing your point about SMAK.  Give me some specifics on any lack of accuracy.
JOE:    Meh... I got nothing else.
SMAK: That's what I thought.  Check out these player predictions from SMAK for the Knights.  Do they look accurate?
JOE:    I have no idea if this will turn out accurately.
SMAK: Ok then,  tell me your strategy for the North Wale Knights.
JOE:    Strategy!?!  No one told me we needed strategy!
SMAK: Obviously, you need some sort of team strategy for the future.  Take a closer look at your roster and tell me what you think.
JOE:    I looked deep into the abyss and the abyss looked back....and called me a fucktard.
SMAK: Then let me start.  SMAK generally sees your team having a better offense than defense.  Agree?
JOE:    No generalization please.
SMAK: More specifically.  Your QB's of Cam Newton & Drew Brees can both finish in the Top 10 scoring QB's in RW.
JOE:    Totally agree.
SMAK: SMAK thinks Jay Ajayi has the chance to finish in the Top 10 scoring for RB's in RW.
JOE:    I thought that too.
SMAK: Alright, 2 for 2.  SMAK thinks Mike Evans & Brandin Cooks will be high scoring WR's in RW.  You think so?
JOE:    Yep, me too.
SMAK: Therefore, the Knights offense will easily outscore the Knights defense in 2017.  Right?
JOE:    You are correct!!
SMAK: SMAK really sees your team defense having a hard time scoring 150pts/game.
JOE:    I was having a similar discussion with my buddy about this.
SMAK: So you still think it's the right strategy to have a low scoring defense?
JOE:    Good strategy...Set the bar low and blow them away!!
SMAK: That appears to be the path this defense is taking.  So you don't mind SMAK undersetimating your defense?
JOE:    I don't mind being underestimated.  We'll see how those "tools" perform come the season.
SMAK: Does that mean we can now refer to your defensive players as "tools"?
JOE:    I don't know what you're talking about.
SMAK: Looking at your defense, which position has you worried the most?
JOE:    My DT's are kinda men, but I think Jerrigan surprises people now that he gets to play upfield and not have to 2 gap so much as a 3-4 DE.
SMAK: Wow!  With a explanation and breakdown like that, you sure seem to know what you are doing.  No?
JOE:    So I still feel like I have no idea what the F I'm doing.
SMAK: Really?  At least it's off-season and you can take a little time to try and right the Knight's defensive ship.
JOE:    My point exactly.  This is the best time to take some extra time and get it right, the 1st time.
SMAK: That's a lot of use of the word "time".  Besides, when it comes to Fantasy Football, I think "time is of the essence".
JOE:     Are we in some kind of rush?
SMAK: I would think so.  The NFL season begins in about a month.  But I guess you still have a few days to try and improve the Knight's product.
JOE:    I'm with you, boss.  Don't mind taking an extra day or two if it makes the product better (or less worse).
SMAK: Now that this interview is winding down, I gotta start preparing my interview with Greg.  What's your beef with him?
JOE:    He started it.
SMAK: Maybe he's ready to make peace, I was told I had to pick up a cake from him and deliver it to you.
JOE:    Aww....he made a cake just for me.
SMAK: That's what it sounds like.  Anyway, thanks for the interview and I hope it worked well for you too.
JOE:     Thank you sir!  Worked for me.
SMAK: Now I'm off to visit with Greg.
JOE:    God Speed Good Sir!
CALIFORNIA NIGHTMARE (1-11)
SMAK's team calculation were completed months ago.  Then numbers were tweaked when trades or roster moves were made.  Now as we get to Chapter 5, I see the California Nightmare have been predicted with a 1-11 record.  Isn't that a bit harsh?  It very well could be, so I go back into the SMAK laboratory and do some re-calculations.  What is my conclusion?  I better stick with the 1-11 prediction as that was the best case scenario.  Sure, I could have inched up to 2-10.  But I could have as easily made it 0-12 too.  Better just stick with the original projections.  How could SMAK be so brutal?  Well, don't you need to roster a starting QB?  The Nightmare are going with Paxton Lynch & rookie, Deshaun Watson.  Neither has been officially named the starting QB's yet.  At least they do have options with Trevor Siemian on the roster.  Plus, they also have Jimmy Garoppolo sitting on the bench.  SMAK doesn't see Tom Brady sticking around as long as so many others believe.  If the Nightmare have nobody to throw the ball, at least they have a solid ground attack.  Going with 3 starting RB's, they have Ameer Abdullah, Isaiah Crowell, and rookie Joe Mixon.  That trio has some promise and should easily combine for over 40tps/game.  When the Nightmare find a QB, they will have 3 young WR's to throw to.  Devin Funchess(23), Quincy Enunwa(24), and Robert Woods(24).  Youth is one thing, but SMAK has a hard time believing this trio can score 45pts/game.  The Nightmare also have a very young core of LB's that will be led by Denzel Perryman, Gerald Hodges, Shaq Thompson, & Jaylon Smith.  These guys range from 22 to 25 years old.  The Nightmare will be hoping they can each score an average of 15pts/game.  SMAK thinks that is easier said than done.  So the good news for the Nightmare is that this is a young team that may be trending up.  Unfortunately, that trend may not start until 2018.  After the 1-11 prediction, I wonder what Greg's mood will be like for the interview.  P.S.  Get your finger sitting at the ready on that censor button:
SMAK: Hello Greg, I heard you were ready to get this SMAK interview started.
GREG: I'm not well in the head though.
SMAK: Headache?  Or mental issues?
GREG: My mind is a warfield right now so don't pay attention to anything I Say.
SMAK: I have been told you can have violent tendancies if the comments about your team are not "favorable".
GREG: You have been warned.  No excuses.  Don't be a dick.
SMAK: I'll tread carefully here.  Let me start by showing you a breakdown of the SMAK formula so you can see how SMAK comes up with the calcuations for the Nightmare's upcoming season.  Take a look.
GREG: Can anyone put this in GED level format please.
SMAK: SMAK predicts the Nightmare to go 1-11 in 2017.
GREG: I'm going to fucking kill you.
SMAK: Hold up!  SMAK isn't the only one that predicts a rough season for the Nightmare.  Several leaguemates believe the same exact thing.
GREG: All of you motherfuckers can east my ass.
SMAK: Don't get all pissed off with everybody.  This is the most anticipated interview in SMAK history, and new subscriptions are going thru the roof.
GREG: I better start seeing some fucking royalties.
SMAK: If I were to share royalties, what would you buy with your first royalty check?
GREG: Buy a new tank top.
SMAK: A new tank top and then vacation in Portland?
GREG: Yeah, that's Oregon by the way.
SMAK: I know, Portland, Oregon.
GREG: Yeah.  We talking about the same thing.
SMAK: Enough of the soft ball questions, let's breakdown the 1-11 California Nightmare.
GREG: You fucking disgust me.
SMAK: I'm pretty sure you won't just accept your fate, so why don't you share some of your plans to re-build the Nightmare?
GREG: No fucking way am I going to discuss it out in the open here though.
SMAK: Then you leave me no choice but to breakdown your current roster.  Paxton Lynch & Deshaun Watson as your 2 starting QB's?  Seriously?
GREG: This is stupid.  Fuck.  Bullshit.  I hate my life.
SMAK: So are you wishing upon a star that these two begin the season as starting QB's?
GREG: No motherfucker... cross you fingers, or like I tell my daughters, shit in one hand and wish in the other and see which one fills up first.
SMAK: Oh I know how far wishing will get you.  But with a phrase like that, I can see your fascinations with that part of the human anatomy.
GREG: You just got added to the text list asshole...and you know what I mean by asshole.
SMAK: You're not going to intimidate me.  Let's check your defense.  K.J. Dillon is your only starting Safety, and he only scored 9pts in 6 games last season. Did you scout him personally?
GREG: I ain't gonna lie...  I didn't even know who the dude was.
SMAK: Don't feel bad, I don't think anybody else know who he is.  Is it true that you predicted a future Pro Bowl appearance for Dillon?
GREG: Yeah, unfortunately it will never happen.
SMAK: At least if it does happen, lot's of fans will jump on the Dillon bandwagon.
GREG: I would cut the brake lines on that fucking bandwagon.
SMAK: Let's move ahead and take a look at your starting TE's.
GREG: Please stop.  Just stop.
SMAK: I don't know if I'm ready to stop just yet.  I've put a lot of work into SMAK and doing research for each team.  Plus, folks find some of these interviews funny.
GREG: Although this may be quite amusing and I appreciate your efforts in putting this together, I still want to punch your face repeatedly.
SMAK: First, Sam showed me a new trick so take a look at all the graphs & pie charts I have for your roster.
GREG: That's good shit my dude.
SMAK: It is.  Colored pie charts are the cat's ass.  Besides, Russ can't stop talking about SMAK either, and not just during video recording time.
GREG: Russ is drunk, obviously.
SMAK: We probably should start wrapping things up.  After meeting with you and looking at your roster, maybe it's not doomed for 1-11.  Possibly 2-10?
GREG: Here comes a text....
SMAK: That is not something I need to see.  Besides, my wife handles all my calls and texts, so she would be the first to see it.
GREG: My apologies to your wife.
SMAK: I probably better bail before I give you my number.  Talk to you later, and I hope you had a memorable interview.
GREG: Bye.  I have already forgotten you.