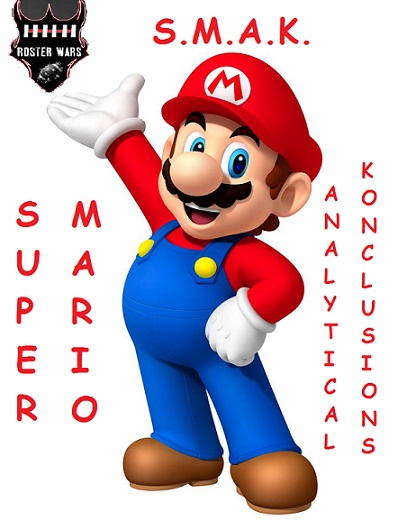 From top to bottom, Chapter Two is not nearly as stacked as Chapter One is. But can any Chapter stack up to Chapter One? Of course Chapter Two has the Roster Wars defending Champion, so until they are de-throned, is this still being considered as the Chapter to beat? This is also the Chapter where SMAK is actually being used to run a team. SMAK is ridiculed week after week, but there is one owner ballsy enough to use SMAK in their day to day GM operations. Another team is convinced that having a smaller roster is the only way to alleviate stress and headaches when submitting a roster. The fourth team in the Chapter decided to blow up their roster after the first week of the 2016 season. This season will be the first one to see how the rebuild is starting to look. So how does SMAK see Chapter Two unfolding. Is the rebuild already completely built? Does size really matter? Does being the defending Champion give them top Vegas odds to start their repeat run with a Chapter Championship? Or is SMAK worth its weight in Gold? Interesting, I'm the Creator of SMAK, I'm the mathematician that calculates all of SMAK's numbers, and I'm the author of the SMAK weekly Predictions, So of course, the top team in Chapter Two will be the Nevada NightHawks with a 12-0 record.
PSYCHE!
Here are the SMAK predictions for Chapter Two:
CHAPTER TWO

SILVER BALLERS

8

4

GADABOUTS

8

4

NIGHT HAWKS

4

8

AFRICANS

2

10
LITTLETON SILVER BALLERS (8-4)
In what is the closest number differential between first and second place in Chapter Predictions, the Littleton Silver Ballers eaked out the Whiskey Creek Gadabouts by less than half a point. The Silver Ballers will be relying on their offense way more than their defense this season as the offense is projected to score close to 180pts a game. This may also be one of the more balanced offenses in the DD as they are starting a pair of QB's, 3 RB's, 3 WR's, 2 TE's, and a kicker. That should give them a lot of flexablity this season. SMAK also predicts a more than 20pt a game average from Melvin Gordon, Julio Jones, and Antonio Brown. Right on the door step of 20pts/game could be Cam Newton and possibly even Rob Gronkowski. The only real concern on the Silver Ballers offense is a pair of 30+yr old RB's in Danny Woodhead & Frank Gore. On the defensive side, the Silver Ballers are hoping the defense can hold its own as they try to score 150pts/game. They will be starting some young safeties with a pair of 23yr olds in Landon Collins & Karl Joseph. If Collins continues to improve, he should be well over 20pts/game. The scary part for the Silver Ballers defense may be at LB with 2 player over 30 and that include David Harris. At 32, SMAK says he'll be having a hard time breaking 10pts/game. If the Silver Ballers are to take 1
st
place in Chapter Two, it will be up to the offense. I wonder if Derrick agrees:
SMAK:     Hey Derrick, thanks for meeting me for this interview. You alright with doing this outside?
DERRICK: I'm ok with this.
SMAK:     Before we get started, any topics off limits?
DERRICK: I really have nothing to hide, so here we go!
SMAK:     Ok, if you haven't seen the predictions, SMAK has the Silver Ballers taking the top spot by less than a point over the Gadabouts.
DERRICK: Wow, this is awesome!
SMAK:    The Prediction Sheet I sent out should be pretty accurate. Any noticeable mistakes? I didn't see any.
DERRICK: I was looking too and couldn't find a damn thing either.
SMAK:     What if the Standings were flipped and you were behind the Gadabouts.
DERRICK: Then that would've pissed me off something fierce!!!
SMAK:    So you're content with the way SMAK has things predicted?
DERRICK: Everything looks good to me.
SMAK:     Also, Chapter 2 has a new owner in Bern with the Nevada NightHawks. I suppose you noticed his retention of Alec Ogletree in RFA.
DERRICK: This is one crazy mother fucker! He does get me to laugh though.
SMAK:     I don't know if crazy is the right description.
DERRICK: Just call it as I see it!!
SMAK:    Could you imagine if the creator of SMAK had his team end up in Pink?
DERRICK: I can't imagine....... This is so sad.
SMAK:    Well, it's not like it would actually happen.
DERRICK: Nope!!! This will never happen.
SMAK:     How about we talk about the Silver Ballers? Here's a sheet of season point predictions for each player on your roster.
DERRICK: These are very interesting to go through.
SMAK:    Thanks. First off, PK Dustin Hopkins.
DERRICK: A kicker!?!? I guess they're people too.
SMAK:    They are. If you'd rather, how about Cam Newton. They say his shoulder will be fine.
DERRICK: Good, I hope they get it fixed and he returns as the Cam he was a few years ago.
SMAK:    Your second starting QB is Andy Dalton. Some suggest he shouldn't even be a starter anymore.
DERRICK: I agree. He is no longer a starting caliber QB.
SMAK:    Any chance of trading for another QB? Or are you sticking with Dalton?
DERRICK: Nope! I will just roll the dice and see what happens.
SMAK:    What about signing Tony Romo? He's a free-agent.
DERRICK: I love Tony Romo!
SMAK:    How about trading Julio Jones for a starting QB?
DERRICK: Julio is 100% going to get an extension, and then will get a SFT. So the odds of him being available is slim to none.
SMAK:     Even if he's under contract, it doesn't mean he can't still be traded.
DERRICK: This whole thing is crazy.....
SMAK:     Switching gears then, the one team we haven't talked about in your Chapter is the Africans. There's been a lot of hype all off-season about their rebuild program.
DERRICK: I'm skipping this hype train like I always do!
SMAK:     Ian seems to think he has everything figured out, but others are not so sure.
DERRICK: Hopefully all this shit works and doesn't cause any issues. I'm not going to hold my breath however.
SMAK:     Anyway, I hope you enjoyed the interview.
DERRICK: Thanks Matt.
SMAK:     Matt? It's SMAK. Super Mario, the one that does the whole SMAK article every week.
DERRICK: Love the write up Joe! Nice Job buddy.
SMAK:     No, not Joe! SMAK, Super Mario.
DERRICK: Thanks for doing this once again Matt.
SMAK:     Not Joe. Not Matt. All SMAK.
DERRICK: Boy I felt like I repeated myself there.
SMAK:     You kind of did, but it's all good. Have a great 2017 season!
DERRICK: Thanks for doing this Brad.


WHISKEY CREEK GADABOUTS (8-4)
Now we get to the 2016 Roster Wars Champions, Whiskey Creek Gadabouts. This Chapter Two race is pretty much too close to call as the final Standings are less than a point apart. But with SMAK, things can be calculated to a decimal place 10 spots if necessary. That's one of the reasons all formulas are divided by PI. Why else is SMAK divided by PI? That's for you history buffs to remember from 2016. Anyway, back to the Gadabouts. There are several strong reasons why the Gadabouts could be considered the Chapter Champs and there are several reason why they may not. First off, when you have Le'Veon Bell in your starting lineup, that's a pretty good case from the get go. Does SMAK dare predict that Bell has a chance to score close to 30pts/game? With Bell in the starting lineup, theres a chance the Gadabouts offense can score 175pts/game. The Gadabouts also have TE Jordan Reed that will be scoring close to 18pts/game. On the other side of the ball, the defense may have a lot more questions than answers. One of the answers is LB Kwon Alexander. The guy is only 22 and is already projected to score over 20pts/game. One of the unknowns is how this young defense is going to respond in 2017. They are barely averaging over 24yrs old with rookie Jarrad Davis starting and what is practically a rookie season for LB Reggie Ragland. Aside for the defensive front line, only CB Darius Slay is over 25yrs old. Currently, the Gadabouts have Trevor Siemian as a starting QB to go along side with Ben Roethlisberger. That has SMAK a bit concerned as well. However, there is no doubt the Gadabouts will finish no worse than 2
nd
in Chapter Two. Let's see if Brad agrees:
SMAK: Hello Brad, did you get a chance to look at the 2017 SMAK Predictions?
BRAD: I think it went as expected. I don't like it.
SMAK: Because you're the defending Roster War Champions and SMAK still didn't predict you to win Chapter 2?
BRAD: Abso-freaking-lutely.
SMAK: You're starting to sound like Dan of the Muskies. You know, "What, no respect for the 2 time defending Chapter 3 division winner?"
BRAD: Dan to the white courtesy phone. Dan to the white courtesey phone.
SMAK: No, no, no. No need to call him. Besides, he's looking for my phone number.
BRAD: Wait... Why would he need your number?
SMAK: Probably because he's sick and tired of me and my SMAK Predictions.
BRAD: How could that be? No one could ever get sick of you.
SMAK: My thoughts exactly. But SMAK wasn't exactly brimming over the cup with compliments about the Muskies last year.
BRAD: Lol Totally forgot about that.
SMAK: Well, Dan hasn't. Speaking of last year, that was the first season of SMAK Predictions and you were just going over it again?
BRAD: I just finished it. I really like Season 1.
SMAK: Season 2 isn't as good for the Gadabouts as they are predicted to finish less than 1pt behind the Silver Ballers. Any suggestions on how SMAK can change that prediction?
BRAD: Victory Points.
SMAK: I'm afraid the Commish is totally against that option.
BRAD: This is the wrong answer.
SMAK: LOL, that response reminds me of a movie quote by Bruce Willis in Armageddon. "Way Wrong Answer".  
BRAD: I love that friggin movie.
SMAK: Most definitely! Now let's get back to football and talk about the Gadabouts.
BRAD: Great googly moogly... I'm rooting for them.
SMAK: Well, I hoped you would be. SMAK is predicting a monster season from Le'Veon Bell as he's probably one of the Top 5 RB's in Roster Wars.
BRAD: I think he's going to be crazy good.
SMAK: You also have LB Reggie Ragland who is basically a rookie following a season ending leg injury last year. Expecting big things from Ragland?
BRAD: Or...he's never the same again.
SMAK: I know, you just can't tell when dealing ACL. But you still believe a complete comeback is possible?
BRAD: Pretty sure this is possible.
SMAK: You know what scares me? The Player News section of the Roster Wars message board. Whenever I see a new player update, I fear it's bad news and going to mess up the SMAK Predictions.
BRAD: And it's going to be awesome with double the amount of people on the message boards. We may have even more of these! Yaaaaay.
SMAK: I'm sensing some sarcasm. It took me a while to figure it out. Was I right?
BRAD: Finally! At least I'll get some sleep tonight.
SMAK: Hmmm, more sarcasm? How would you describe your sarcastic personality?
BRAD: Awesome! In a class all my own.
SMAK: Who's to blame for your sarcasm?
BRAD: I blame the Dragons.
SMAK: Well, I don't want to open up that can of worms, so I'm going to change the subject.
BRAD: Oh jeesh. That sucks.
SMAK: I can tell you're trying to bait me into something, and there's no way you can make me.
BRAD: Pretty sure this is possible.
SMAK: Nope. Looking at the Gadabouts starting LB's. Are you worried you have 2 players with no NFL experience in Ragland & Jarrad Davis. Isn't that "worrisome"?
BRAD: No. It's "strategy".
SMAK: So after all of SMAK's research, I think it was because of the defensive uncertainty that had the Gadabouts predicted 2
nd
place finish in Chapter 2.
BRAD: Finally! The crux of the issue.
SMAK: And I just realized it at the midnight hour.
BRAD: Phew...you just beat the deadline.
SMAK: So I'm going to get this interview off to print. Hope you like the job I did.
BRAD: Another excellent job. Very well done.


NEVADA NIGHTHAWKS (4-8)

Next up is the SMAK experiment – Nevada NightHawks. The NightHawks took over an Outlaw team that finished 2016 with an 8-4 record. Well, the 8 and the 4 are still in the SMAK prediction, but it's a 4-8 prediction instead. Where did SMAK go wrong? Quite possibly nowhere. Just like Billy Beane used Moneyball to build the Oakland Athletics, the NightHawks are going with SMAK. It's the same concept of using a analytical, evidence-based, sabermetric method in calculating stats and building a cohesive team that does not need to be superstar based. This process took Billy Beane a few years and the SMAK approach may take a year or two as well. They do have a few key pieces in place with the likes of starting QB, Derek Carr. He is predicted to break the 20pt/game barrier this season. But then take a look at the rest of their starting offense. The names look like bench players from all the other teams. Ameer Abdullah, Mark Ingram, Marvin Jones, Eli Rogers, Willie Snead, and Adam Thielen. Did the Nighthawks not spend any money this past RFA off-season? They do have some big names on defense with the front line being led by Jason Pierre-Paul. He's another player that could reach 20pts/game. With only late round picks in the Rookie Draft, they did key on defenders. Gotta give a shout out to Malik Hooker. Why? Because he's going to be a star? No, because having a Hooker on a Nevada team make perfect symmetrically sense. On paper, it looks like the NightHawks may be struggling for wins in 2017...........Wait a minute, I have to sneeze........Ahhhhhh.........Ahhhhhhh...........AhhhhhhhhhTREE. Gesundheit! Hey, did I just hear tree? Oh, did I somehow forget to mention Alec Ogletree? He must've somehow slipped my mind. Derek Carr will be the star of the offense and Alec Ogletree will be the star of the defense. Obviously, SMAK has predicted Ogletree to score over 20pts/game as he will be near 22pts/game. So it's safe to predict that Carr & Ogletree will be the cornerstone of the NightHawks roster for years to come. Let's see if Bern agrees:
SMAK: Hello Bern!
BERN:  Was somebody calling?
SMAK: If feels kind of awkward doing this interview. Is it weird for you?
BERN:  Shit, not me.
SMAK: Then maybe it won't be so bad. Besides, it has to be done as each Chapter Predition is due out on Mondays.
BERN:  I didn't expect the next article to come out so soon.
SMAK: Yup. So here's a copy of the Chapter 3 Predictions.
BERN:  Getting excited to see what you have in store.
SMAK: Well, what's your first impression?
BERN:  Dang, that is an f'd up system.
SMAK: No, the system is pretty accurate and unfortunately for the NightHawks, they are predicted to go 4-8 and finish 3
rd
in Chapter Two.
BERN:  Now you're just making stuff up.
SMAK: No I'm not. But it's not all bad news for the NightHawks. Here's a stat for you, they have the youngest starting lineup in the DD with an average age of 24.
BERN:  Now that's an impressive Stat Of The Day.
SMAK: Does it worry you having such a young roster?
BERN:  We need more old duffers here. Too many young whipper snappers!
SMAK: But building a team with youth gives you a chance to build a solid team for years to come.
BERN:  I've thought of that too.
SMAK: If you want some older, veteran leadership on your team. There are Free-Agents like Colin Kaepernick, Dominique Rodgers-Cromartie, & Anquan Boldin still out there. How about those names?
BERN:  Damn, each one of them had me laughing out loud.
SMAK: Now I wouldn't be a professional reporter if I didn't ask. Alec Ogletree? Wasn't that a bit of a waste spending all those War Bucks and losing draft picks?
BERN:  A waste? I wouldn't call it a waste. A little extra, or a bit excessive, maybe. But not a waste.
SMAK: Greg, of the California Nightmare, had some choice words for you actions in retaining Ogletree.
BERN:  Holy Shit!!
SMAK: What's the matter? Are you scared of Greg?
BERN:  Hell, I'm scared just living in a state next to Greg.
SMAK: What about me? I'm the one that will have to write about how bad his team will be.
BERN:  I was going to post something about that too. However, I'm glad you did because I chickened out.
SMAK: I see your Head Coach has Cody Latimer in the starting lineup. Why would he do that?
BERN:  I think that guy started getting sloppy at the end and just tossed it up there.
SMAK: Well, if he ends up getting released in Denver and you keep him in your starting lineup, Andy will be pissed and throw your ass into the wood chipper.
BERN:  Does Andy own a wood chipper?
SMAK: Well if he doesn't, at the very least, you'll be back to playing just fantasy baseball.
BERN:   Did somebody just say BASEBALL?
SMAK: Getting your mind back to football, the Atlanta Africans are in your Chapter and are destined for last place.
BERN:  Finally, my team is not in last place.
SMAK: I don't think it ever was. And now that Ian's getting married, his team may be doomed for a while as he'll be busy with his new spouse.
BERN:  Happy wife makes for a happy life!
SMAK: And to do that, he's going to end up at the bottom of Roster Wars.
BERN: That, and I don't think he understood the PECK KING order around here as he was just a small FISH in the pond.
SMAK: I have to say, doing an interview in 3
rd
person / 1
st
person, 4-D, Back to the Future type of format made it fun and pretty funny.
BERN:  Fuck, I was laughing less than 30 seconds in!
SMAK: Actually, I wouldn't mind interviewing you more often throughout the season.
BERN:  Wish I lived closer, I would so take you up on that.
SMAK: Anyhow, thanks for giving me the opportunity to this interview and I hoped you liked it.
BERN:  Another fine production.


ATLANTA AFRICANS (2-10)

The Atlanta Africans are predicted to finish last in Chapter Two. Last year, the Africans blew up their team and went 1-11. From there, the rebuild began. Things are looking up for this franchise. If you look at the Africans offense, you may ask yourself, how is a last place finish in Chapter Two possible? They have a QB tandem of veteran Matt Ryan and sophmore Carson Wentz. Ryan scored 22pts/game last season and is predicted to do just as well this year. Wentz was just under 14pts/game last year and is looking to score closer to 15pts/game this year. So there seems to be no problems there. There are only listed as starting one RB and it's going to be Rookie Christian McCaffrey. Any chance he can average 18pts/game? The receivers are being led by Dez Bryant & Terrelle Pryor as they should score 28pts/game. So with an offense that's predicted to score over 150pts/game, the real issue must be on the other side of the ball. So far, SMAK only sees two players that will be scoring over 15pts/game as that will be DE Olivier Vernon & LB Kiko Alonso. They have a Rookie Safety in Jamal Adams starting and the Africans also have 4 starters from the defensive front line in their lineup. Part of the problem are the 2 starting DT's in Malik Jackson & Dontari Poe. SMAK is concerned that a combined 20pts/game from the pair may be tough to achieve. If any of these front line guys begin to struggle, waiting in the wings will be Rookies, Myles Garrett & Charles Harris. Let's see if Ian gives any hints as to when they'll be seeing the field:
SMAK: Hey Ian. Apologies in advance for anything I say as this is my 4
th
interview tonight. Did you get a chance to look over the rankings?
IAN:    Apparently being tired makes you sloppy.
SMAK: Not at all. These rankings were done long ago and are the official rankings. So I'm afraid the Africans are predicted to finish last in Chapter 2. So you've gone over them?
IAN:    Yeah, these are tough.
SMAK: Afraid so. There's some interesting predictions this year as the RedKnights are predicted to finish 3
rd
in Chapter 1.
IAN:    Not sure how I missed this. WOWza.
SMAK: That just goes to show that SMAK is very flexible in its accuracy as team rosters change from player to player. And the RedKnights had a lot of player movement this off-season.
IAN:    Anything that ranks the RedKnights that high must be seriously flawed.
SMAK: You may think that as the Africans were predicted to win only 2 games, but Nick of they Tyrants and his group of friends are excited about SMAK's predictions.
IAN:    Wait, hold the phone, Nick has buddies??
SMAK: Of course is does. As a matter of fact, SMAK is a master computer hacker, and it can get into Nick's accounts and pull up a friends list thru Amazon Echo or Google Home.
IAN:    You still have the rights to do that? Scandalous!
SMAK: It's not really about having the "rights". Hacking does these things illegally and that is kind of a SMAK side job.
IAN: Should we be worried about these "other things" you will be working on... It's not a coup de'etat is it??
SMAK: Not really. SMAK is so busy with Roster Wars, it doesn't have time to get into the hacking business. Speaking of business, let's get down to your mediocre roster.
IAN:    Mediocre my ass!
SMAK: Then let's not use any adjectives in describing the Africans and just go over some of the players. Let's open the African cupboards and see what it looks like.
IAN:    Not looking good.
SMAK: They're not totally bare. You do have 49 rostered players and only 2 CB's on the roster. Is it because of the scoring format?
IAN:    Current CB scoring definitely irks me, but to hard to fix.
SMAK: Shouldn't you carry at least 3 of 4 CB's?
IAN:    Didn't get the memo on this apparently.
SMAK: No memo out there, but your team is very offensive heavy on roster size with 29 offensive players and only 20 defenders.
IAN:    Everyone falls in love with offensive skill guys.
SMAK: You do have 7 QB's on your roster and at least SMAK predicts another 20pts/game season for Matt Ryan.
IAN:    At least there are some things around here that don't change.
SMAK: You also have Christian McCaffrey listed as your only starting RB. Since he's a rookie, how do you feel about him endng up in Carolina?
IAN:    Pretty happy with where he landed.
SMAK: I see you have Dez Bryant as one of your starting WR's. Why not create a little havoc and ship him & a 2
nd
rounder off to the NightHawks for a LB? That'd be a nice change of scenery for Dez.
IAN:    When your goal is spreading mayhem vs building a good team it's no surprise that you prefer the change.
SMAK: SMAK does not get involved with creating mayhem. But I'll put the word out that if anybody has an extra LB, you'd move Dez & a 2
nd
rounder for him.
IAN:    I'm not opposed to that in case anyone was wondering.
SMAK: Well then, it looks like SMAK was involved in opening up the doors some possible DD trades. As we wrap things up, take a look at the interview transcripts and make sure they're fine.
IAN:    Some great stuff here.
SMAK: Re-read them again, as I try to find my car keys.
IAN:    Did you lose them?
SMAK: Nope, here they are. And when I get home, I'll e-mail you the entire article prior to printing. Jokes and all.
IAN:    Haha, I look forward to that.
SMAK: Are you pleased with SMAK being published weekly in the Wartime Press?
IAN:    This is the most amazing thing week in and week out.
SMAK: Ahh, you're making me blush. Anyway, I'll be headed home now.
IAN:    Headed home, awesome!